Sorry, offsite programs (except The Dmitri Experience)




are unavailable until further notice.



Check out our onsite and virtual program offerings!

If you are interested in booking Dmitri, please read about The Dmitri Experience
and fill out our Program Request Form below.
We normally require at least 2 weeks notice for program scheduling to ensure staff availability.
Please scroll down to Offsite Program Policies for full program terms.
The Dmitri Experience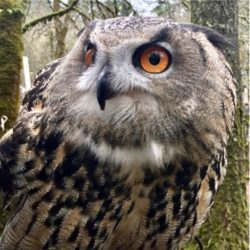 Dmitri, our Eurasian Eagle-Owl, is the largest owl and one of the most skilled birds on our ambassador team. In addition to his work as a raptor educator, he also makes private appearances to support the work we do at Cascades Raptor Center, such as personal visits. He has experience with photo shoots, corporate events, weddings, and even film sets.
Fee: $350 + additional surcharge depending on the circumstances of Dmitri's appearance.
If you are interested in booking Dmitri, please fill out the Program Request Form and provide as much detail as possible, including:
What kind of location Dmitri will be appearing in?
Will Dmitri be a passive visitor or active participant (e.g. in a flight or training demonstration)?
Standard Offsite Program (Currently Unavailable)
Extended Offsite Program (Currently Unavailable)
Offsite Program Policies:
Cancellations: We require at least 48 hours notice for cancellations or your group will be charged the full fee.
What makes a great program space:

Good acoustics with minimal echo (libraries and classrooms = great, gyms and cafeterias = not so great)
A solid wall behind the presentation space to help the birds feel secure
A nearby parking spot for loading and unloading
No other animals present, especially dogs!
Weather: Birds are very sensitive to excessive heat. If outdoor temperatures are over 85 degrees, the program will need to be indoors with air conditioning.