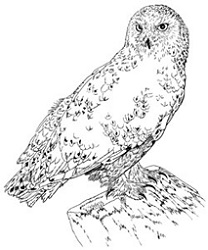 Scientific Name: Bubo scandiaca, formerly Nyctea scandiaca
A large owl found circumpolar in the northern hemisphere. Similar in size to the Great Horned Owl (Bubo virginianus), but primarily white for camouflage in snowy environments. Males are almost pure white, with some light bars or spots of dusky brown. Females and juvenile owls show much more brown barring and spots. Females are significantly larger than males. The ear tufts of this owl are indistinguishable but present.
The eyes seem small for an owl, but the brilliant golden irises are striking against the white plumage. The beak and talons are dark in color and heavily feathered. Plumage is highly insulative for protection against extreme arctic cold. This species has both highly acute vision and hearing. It can locate prey visually from a great distance, or acoustically through deep snow. Snowy owls are considered crepuscular but can often be seen hunting during daylight.