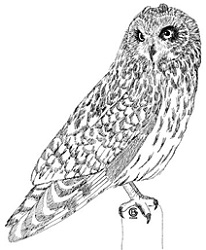 Scientific name: Asio flammeus
A tawny, mid-sized owl with a large, round head, long and narrow wings, and a tail of medium length. The upper body is mottled brown and buff, the underside is buff to reddish with vertical streaks. Sexes have similar plumage, but females tend to be darker and more heavily streaked. This owl has yellow eyes and a black bill, set in a large, whitish facial disc of feathers that help direct sound to the ears. Small "ear" tufts can be raised above the forehead in a defensive posture, but these are often not seen. Females are slightly larger than males, and this species is larger than its cousin the Long-eared Owl. The pattern of flight is irregular, with shallow, stiff wing beats; the wings have dark carpal patches and barred wing tips that are visible in flight.
Small, wide-set feather tufts often lead finders to think this is a "baby great horned owl"; large, yellow eyes; streaked underparts (w/ horizontal black barring in the juveniles changing to irregular vertical streaks in adult plumage); very well camouflaged for its day-time roosts against the trunks of trees; biggest of the little owls.