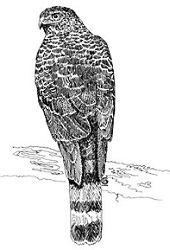 Scientific Name: Accipiter striatus
The smallest of the North American accipiters, or forest hawks, the sharp-shinned had a reputation of being the enemy of all small birds before research made it clear that it has no deleterious effect on the populations of its prey species. With its long slender body, short rounded wings and long narrow tail, this bird can twist and turn and dart through and around all the obstacles of a dense forest – or warehouse, or other buildings, where its penchant for chasing small birds can frequently lead it.
Males average less than 60% of the size (by weight) of females, making it the most extremely size dimorphic of the raptors. Immature birds are a dark grey-brown on the back, with brown vertical streaking on a cream colored breast; the eyes are yellow and large for its relatively small head. The adult becomes more grey on its back, and the front turns to horizontal rufous barring on a creamy breast; and the eyes turn red/orange. The beak seems small for a raptor, but the long legs and long skinny toes with relatively short talons are the quintessential bird-catcher's feet; the tail has wide light bars alternating with narrow dark ones, and a squared off tip.