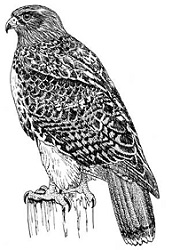 Scientific Name: Buteo jamaicensis
A large, stocky hawk with broad and fairly rounded wings, and a wingspan of about 4 ft. Plumage is extremely variable in pattern and amount of dark; at least 4 light morph (variety) and 3 dark morph subgroups have been identified, with color phases ranging from pale, to "normal," to reddish, to dark. All of these interbreed, so individual variation in this one species of hawk is enormous. Sexes are similar in appearance, with much size overlap, but females are generally larger.
The reddish tail of the adult is distinctive to this species, but juvenile birds (and some color morphs) lack this feature. Most adults have a belly band of dark streaks on white underparts. Another identifying point common to all subgroups is a dark mark on the leading edge of the underwing, visible in flight. This is the most common and widespread hawk in North America – and also has the most variable pattern of plumage of all hawk species on the continent. Flight pattern of flapping and gliding is often seen when this bird hunts on the wing. Most often they are seen in soaring flight, with the wings held in a slight dihedral or broad U-shape.