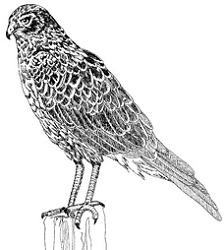 Scientific Name: Circus hudsonius formerly Circus cyaneus

A slender, graceful raptor of the open country with long legs, long wings, a long tail, and a dark-hooded, owl-like face. Females are larger than males, and the adult plumages of the two sexes are very different. Females are brown above, buffy below, with the chest and sides heavily-streaked with brown, and lighter streaking and spotting on the belly. The underwing shows heavy barring of the flight feathers. The male is pale blue-gray above, and mostly white below, with some small rufous spotting on the chest and belly.
Wing tips and trailing edges of the wing are black. Juveniles look like females, with a reddish tinge to their plumage. A white patch on the upper tail near the base is a distinctive feature on both sexes. The Northern Harrier also has a unique disc of facial feathers, giving them an owlish appearance, that probably helps them hunt by ear – useful in areas of high grass. These birds are often seen flying low, back and forth over the ground, with wings held in a bold dihedral – a "harrying" pattern of flight used while out hunting. Their long, narrow wings are very flexible in flight, and they tend to bounce around unsteadily in winds.