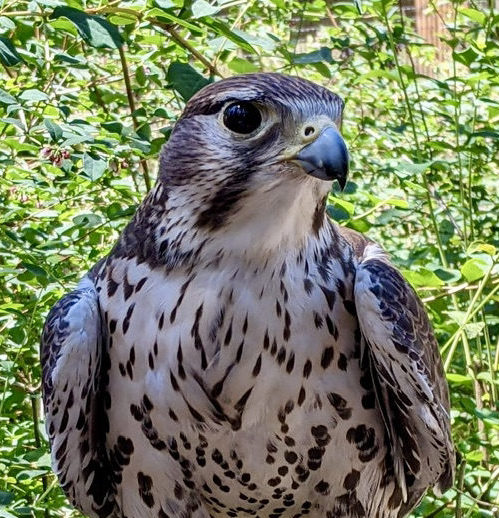 Gold & Platinum Level Adopters of Marley:
Patricia Valas & Walter Rachele • The Westlind Family • The Clark-Dassonville Family • Marco Esters & Lena Trotochaud
Marley, a Prairie Falcon, hatched in Idaho in 2016. As an eyass (nestling falcon), she began her training in the sport of falconry with a permitted falconer. After hunting with a falconer for several years outside of Boise, Idaho, she became part of a Prairie Falcon propagation program in New Mexico. A year later, she returned to falconry, and in the summer of 2022, joined Cascades' ambassador team.
Prairie Falcons live in open country habitats across western North America, hunting small mammals, large insects, and other birds. Intrepid birders might be able to catch a glimpse of this species in the high desert of eastern Oregon. Note Marley's very thick malar (cheek) stripes under her eyes, which help reduce glare while hunting the wide-open prairies.
Spanish bird biographies by Crosscultural Now