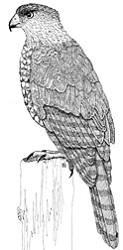 Scientific Name: Accipiter cooperii
A medium-sized accipiter, it is always larger than the similarly feathered Sharp-shinned hawk. Identification in the field, however, is difficult. The Cooper's hawk is considerably smaller than the Goshawk; however, the juvenile Goshawk has similar plumage. It is the most slender and long-tailed of the accipiter hawks. With experience it can be identified by its shape and stiff wing beats. A very aerodynamic bird, its shape and long-toed foot is especially successful in hunting birds.
Female is approximately 1/3 larger than male but both sexes are similarly colored. The back and upper wings of this species, in adult plumage, is brown to blue-gray while the underparts are barred red in color. Like other woodland hawks, the wings are short, round and powerful. The tail is rather long and round with 4 bands of light and dark. Legs are yellow with extremely long toes. Eyes turn a red-orange color in adult birds.