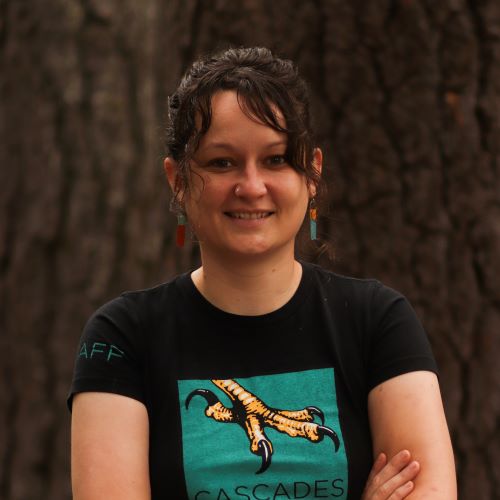 Sidney Campbell grew up in southern California, developing a deep respect for wildlife conservation and animal ambassadors, watching her uncle work with elephants at the San Diego Zoo.  She found her passion for raptors as an intern at the American Bald Eagle Foundation (ABEF) while earning her Bachelor of Science in Biology at the University of Alaska Southeast.
A certified professional bird trainer, Sidney is passionate about working animal welfare. As staff at the ABEF, Campbell led a complete aviary redesign and construction project, expanding animal programming opportunities and enhancing visitor accessibility and education. She is a general member on the board of the International Association of Avian Trainers an Educators (IAATE) and contributes to the Professional Development Committee as a mentor to other bird trainers. She has presented several workshops and papers on the subject of workplace culture and its impact on welfare.
Outside of work, Sidney enjoys birding and exploring the outdoors with her dog, Eider or curling up with a good book and her cat, affectionately known as Cat Cat.