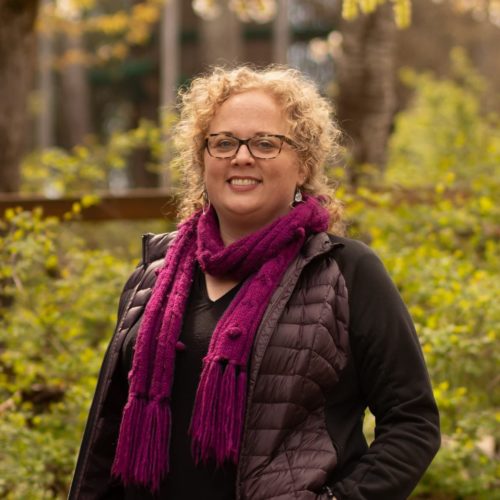 Julie Collins is the Executive Director of Cascades Raptor Center. She is an Oregon native, born and raised in Milwaukie. As a young adult, she moved to Arizona, where she worked for over 15 years in the medical field. Eventually, her passion for interpersonal connection and building partnerships led her into public relations work for the local hospital system as a Community Development Liaison. In 2015, Julie and her family made their way back to the Pacific Northwest and set down roots in Eugene.
As she settled into her life in Eugene, her son's love for birds of prey inspired Julie to start volunteering at Cascades Raptor Center. She joined the staff in 2017 and served for five years as Development Director, coordinating a variety of efforts from fundraising and donor relations to operational management and strategic planning. In early 2022, she was promoted to Deputy Director, then later in the year to Executive Director. She thrives on the Center's successes and on her passion for the work we do. Julie is committed to focusing on Cascades Raptor Center's mission while also helping the Center expand and lay foundations for the future.
In addition to her work with Cascades Raptor Center, Julie is also the board president of Emerald Valley Development Professionals and an active member of the Eugene and Springfield Chambers of Commerce. When not working, she enjoys being creative, getting her hands dirty gardening and doing crafting projects. She also loves exploring Oregon's beautiful landscapes, especially the forests and coastline, and spending time with her two teenage children.