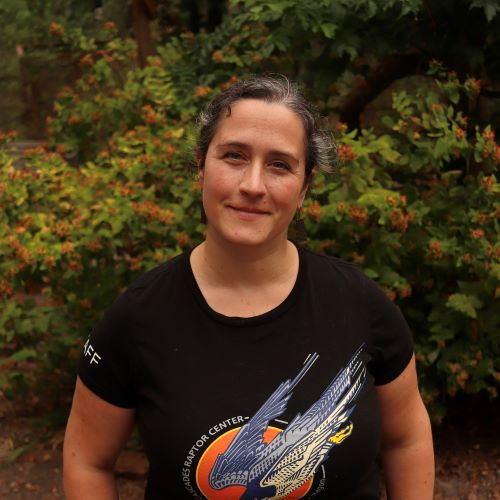 Carrie is a native Eugenian, having grown up at the Eugene Saturday Market and attending South Eugene High School. She moved to Corvallis and graduated from Oregon State University with a Bachelor's degree in Zoology in 2008. That August, she began volunteering at Cascades Raptor Center and has been hooked ever since.
In October of 2009, she traveled to South Africa where she volunteered for three months at C.A.R.E., a baboon sanctuary in the African bush. Though she always dreamed about working with primates, while in South Africa, Carrie found herself continually looking up in the sky and wondering about the raptors she saw there. She knew then, that raptors had become her calling. Upon returning, she joined CRC's education team, completed the International Wildlife Rehabilitation Council's two-day basic wildlife rehabilitation course and began volunteering around at the Center for 20 hours a week.
As an employee, Carrie wears many hats, both education and rehabilitation and has completed the radiographic certification class required by the state, so that she can take X-rays. Carrie brings to CRC her passion for animals, personable attitude, dedication, hard work, willingness and eagerness to always learn and share her knowledge with others.