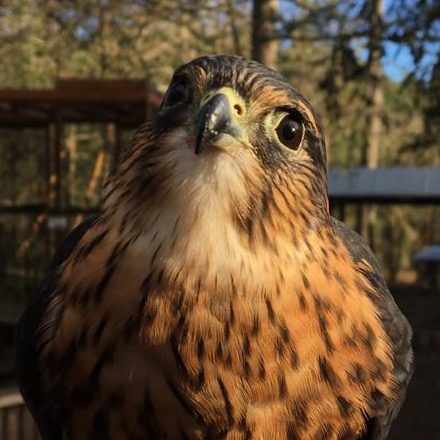 Gold & Platinum Level Adopters of Hoku:

Patty Smiley • Monica Kundl • Weston Charbonneau • Mountain Rose Herbs
Hoku was illegally taken as a nestling in Wisconsin in 2012. After becoming imprinted on humans, then contracting a possible West Nile Virus infection, he was finally turned over to a licensed rehabilitation facility. Not having learned the important skills needed for survival on his own, he was transferred to a falconer in Oklahoma, where he taught education programs. In September of 2015, he joined Cascades Raptor Center's education team.
Hoku is fond of frequent baths, and the vigor with which he takes them has given rise to his nickname: "The Hurricane". He is also working on his people skills as he teaches guests all about this impressive and tiny falcon species.
Spanish bird biographies by CrossCultural Now