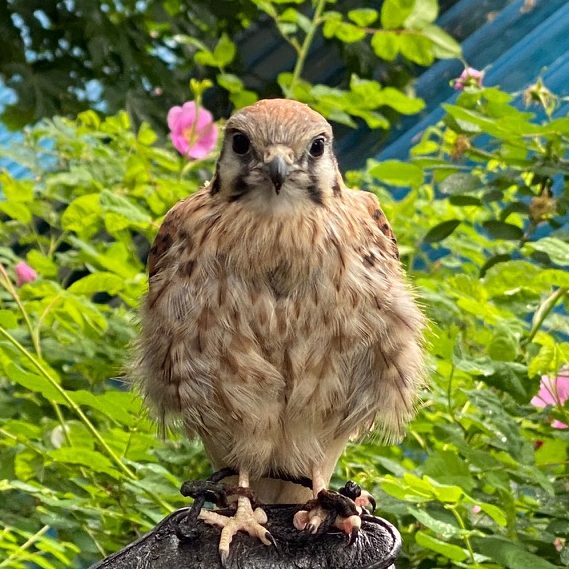 Want a deeper look at what we do?

We offer intimate staff-guided tours for groups of up to 4 people.

We normally require at least 2 weeks notice for program scheduling to ensure staff availability. Please scroll down to Guided Tour Policies for full program terms.
Looking for our main self-guided tour? See here for visiting information.
Guided Tour Policies:
Cancellations: We require at least 48 hours notice for cancellations or your group will be charged the full fee.
No direct physical contact between guests and raptors is allowed on tours. This is for your safety and the birds' too!
Tour personal
TENGA EN CUENTA: Personal Tours usually begin between 9:00 and 9:30 a.m. (before we open to the public) for a more personal experience with your guide.
Enjoy an exclusive private tour guided by a Cascades Raptor Center staff member! A great gift for the single raptor lover, couples, or small family or friend groups of up to 4 people. The tour lasts approximately 1 hour, after which you are free to continue exploring the center on your own.
You will get to:
Learn directly from staff about each of our resident raptors and their unique personalities and backgrounds
Meet a resident bird outside their enclosure with a trainer
Get a closer look at the raptor center's work and the team that makes it possible
Fee: $250 non-members – $200 members (price covers up to 4 people)
Experiencia definitiva de rapaces
TENGA EN CUENTA: All Ultimate Raptor Experiences must begin by 9:00 a.m. at the latest to ensure you have the most private experience with your guide.
Go even deeper and shadow one of our trainers as they make their rounds! Learn how we work with our resident raptors and what it takes to make a great bird-trainer partnership. Perfect for those interested in choice-based training, or for anyone who has ever wondered, "How do they teach the bird to do that?"
You will get to:
Enjoy an in-depth look at our daily animal care and training processes
Meet at least 2 resident birds outside their enclosure with a trainer
Finish with an exclusive raptor encounter!
Fee: $450 non-members – $400 members (price covers up to 4 people)